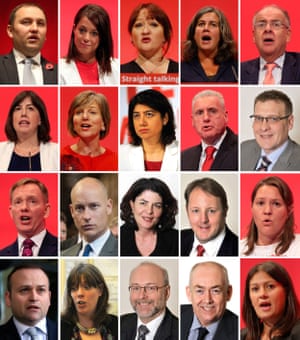 Photograph: PA
I recognise the much leaner former Lord Chancellor, 'Charlie' Falconer (top right), ex-Anglican priest and gay activist Chris Bryant (3rd down) for banging on and on about gay people being the same as everyone else but deserving special privileges, and, to his left, Stephen Kinnock mainly for being Stephen Kinnock. The MP above Bryant looks familiar but I can not put a name to the face.
Years ago many of my contemporaries knew most if not all members of the Cabinet and their Shadow ministers. As an elderly friend often reminds me, that is when we had statesmen in government. That does not necessarily imply anything about their relative competence but one thing does. That is to know when their time is up.
Jeremy Corbyn is the surprise 'Leader' of the Labour party who is stuck in the past. He and his supporters see this as a breath of fresh air, a new kind of politics! Few had heard of him until an electoral wheeze
backfired
and horrified Labour MPs realised what they had done in broadening the field for the sake of appearances.
On Monday the Guardian
reported
: "
Jeremy Corbyn is preparing himself for a leadership contest following a fresh wave of resignations, with 15 members of the shadow cabinet walking out and calling for him to step down from the helm of the party...A source close to Corbyn said the number of resignations was destabilising but ultimately irrelevant unless someone triggered a leadership election. 'In many ways, the shadow cabinet is now stronger. There is no shortage of good people who want to do these jobs. The only way to try to replace Jeremy is to stand against him in a democratic contest,' he said, adding that was now 'likely to happen'
."
A
report
this morning indicates that "more than 40 Labour MPs on Corbyn's front bench and in his shadow ministerial team" have quit.
Ignoring all appeals from fellow MPs who have pointed to his lack of leadership skills and what they regard as his dismal performance or even '
sabotage
' in the EU Remain campaign, Corbyn says he will stand again in a leadership election claiming support from the rank and file of the Labour Party. As he faces a No Confidence vote has he thought to ask himself, where were his 'loyal supporters' when he was supposed to be galvanising support for the Remain campaign?
Does it matter one jot if
Momentum
successfully retains Corbyn as leader if he does not command the confidence of the country? Of course not. Power often involves compromise. It was a hard lesson for Labour to learn but now apparently forgotten again. If they fluff it again they will have only themselves to blame.
Corbyn must make way for someone who is able to lead the Labour party as an effective Opposition and possibly into Government.
Update
[28.06.2016]
Jeremy Corbyn has lost a confidence vote by 172 votes to 40 with 4 abstentions.