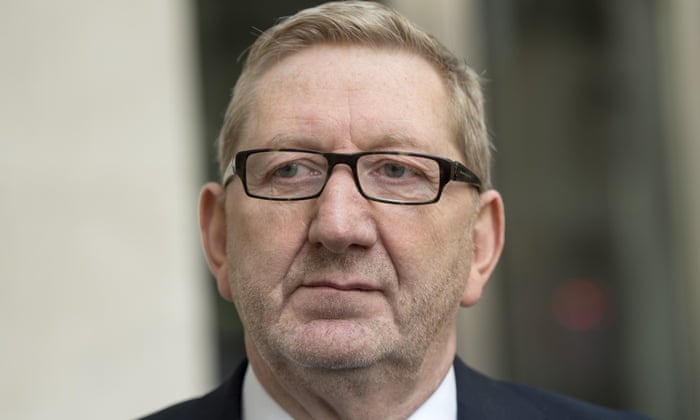 Len McCluskey said rivals to Jeremy Corbyn were unlikely to win union support.
Source; Guardian Photograph: Rex/Shutterstock
Perhaps they have forgotten but Marx is dead, Thatcher is dead.
Severely weakened by Margaret Thatcher, the power of the Trades Unions is not what it used to be but the current difficulties being experienced by the Labour Party, driven by
Momentum
, have provided the opportunity for some Union bosses to flex their muscles again, Len McCluskey General Secretary of Unite and General Secretary Mark Serwotka of the Public and Commercial Services Union among them, with Corbyn appearing to be under the control of the
unions
.
The hard Left is campaigning for people to join the Labour Party simply to vote for a Leader who does not have the confidence of the majority of Labour MPs to lead them. The hard Left's intervention is reminiscent of
Militant Tendency
in their attempted take-over of the Labour party in 1985 before Neil Kinnock made his memorable
speech
at the Party Conference in Bournemouth.
Many of the new activists appear to be young idealists who did not vote in the EU Referendum then complained afterwards because they did not like the result, mainly because of a perceived restriction on their movement around Europe, the same generation which tries to stop discussion in our universities. Examples
here
and
here
.
I have listened to Jeremy Corbyn. He is a prisoner of Party members who delude themselves into thinking that they represent the electorate. Corbyn may be the clear choice for leader of the Labour Party but MPs are elected by a much broader spectrum than party members. He
says
that the Opposition should be putting "enormous pressure on the Tory government on inequality, injustice and poverty", sounding remarkably like a pale reflection of what Theresa May has on offer in her
leadership
speeches.
More importantly, Theresa May is focused on Brexit, as is the electorate, not the petty party politics which continue to obsess the Labour Party. Principles without power are not the stuff of government. Corbyn may represent his
party
but the wider electorate takes a broader view.
There is no confidence in Corbyn among MPs as their leader so he should stand down to restore confidence in Her Majesty's Most Loyal Opposition in the interests of the country.
Postscript
[19.07.2016]
The Trident vote has come and gone with a thumping majority
in favour
of renewal. Unlike 140 of his party colleagues the Leader of the Opposition decided to do his own thing and vote against the motion in opposition to Labour Party
policy
. The wishes of the membership can be fluid apparently.
Given Corbyn's pick and mix approach to politics he could be a modern day Anglican but apparently he has
no religion
. He says "I go to churches, I go to mosques, I go to temples, I go to synagogues. I find religion very interesting. I find the power of faith very interesting." A little more faith in his fellow MPs would not go amiss instead of pressing the Labour destruct button. Said to be a "nice guy", Jeremy could easily be a New Anglican!